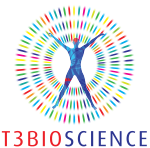 Vision
It is T3 BioScience's vision…
… to create agricultural treatments in the area of crop protection that will replace the need of using antibiotics in this industry sector. It is the paramount ambition of our biotech firm to safe human lives from antibiotic resistance. To achieve our goal, we understand the mandatory target that our novel treatments will have to provide protection levels against bacterial and fungal crop diseases at par with high performing antibiotics and chemicals, without their negative impacts on the environment.
Understanding this mandate, the T3 laboratory is making use of its proprietary discovery methodology, PROMISA, that has yielded highly potent natural bacteria with potency at par or above antibiotics. Through innovative ideas, we have devised a micro-biological formulation technology that retains the stability of the innate potency of our discovered lead compounds. The result are unique agricultural bio-control agents that will revolutionize the world of crop protection on a global scale. .
A first EPA approved product by name of RejuAgro is expected by 2024 with three more complementary Lead Compounds being in an earlier stage of product development. First regulatory EPA relevant toxicity and environmental tests started in January 2021.