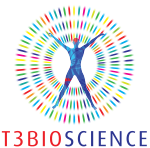 Vision
It is T3 BioScience's vision…
… to create medical drugs that are saving human lives. A paramount ambition, our biotech firm is focusing on very specific areas of expertise: fighting human resistance to antibiotics.
T3 BioScience knows that discovering novel antibiotics, a field of scientific research abandoned long ago by the larger pharma industry, represents only one aspect of saving human lives. The other aspect is about breaking the cycle of antibiotic resistance by helping the agriculture sector to reduce their enormous need for antibiotics required in animal and crop farming.
… working with innovative ideas, on products that fight the devastating fire blight disease in fruit crop, particularly apples, where currently, antibiotics are being used as pesticides, eventually entering the human organism potentially causing devastating results.